Virtual Simulation for Organizations & Instructors
Courses & Learning Solutions
What is virtual simulation in nursing?
Virtual nursing simulations are a type of clinical experience where interactions with patients are performed virtually on a computer or other digital learning environment, in ways that parallel real-world engagement.

Simulation provides learners with a comprehensive and repeatable hands-on learning experience. This encounter allows them to practice assessment, diagnosis, and clinical procedures in a simulated space. In this immersive setting, learners perfect their skills and build confidence in a safe setting.
Virtual Simulation Solutions for Nursing
Laerdal, Wolters Kluwer, and the National League for Nursing have teamed up to create vrClinicals for Nursing, a unique VR solution that immerses your students in a realistic, busy hospital to develop their multi-patient prioritization and clinical judgment skills.
Experience the continuous unfolding experience with multiple patients, in scenarios focusing on prioritization across the ward, give and receive SBAR, benefit from measurable feedback, self-debrief, and guided reflections.
This solution also helps reduce the number of instructors and coordinators needed to run complex cases, while ensuring a higher throughput.
This latest version of vSim for Nursing provides students with the most advanced and immersive virtual simulation experience.
Lifelike patient realism and responses, new SBAR tool for improving communication skills, and tablet compatibility are among the new features included in NextGen vSim for Nursing.
Exercise clinical judgment skills and build confidence in decision-making with the most trusted virtual simulation solution by Nurse educators, specially designed to help students prepare for the next-generation NCLEX.
Original vSim for Nursing
This original version of vSim for Nursing has been enhanced with upgraded features for easy usability as students develop clinical reasoning skills, competence, and confidence in providing care to diverse patients in a safe, virtual simulation environment.
Designed for use in classroom or remote environments, vSim for Nursing helps students prepare for practice with:
Real-world practice in patient-centered care
Personalized learning and precise remediation
Realistic clinical experience available anywhere, anytime
Courses and Curriculum Solutions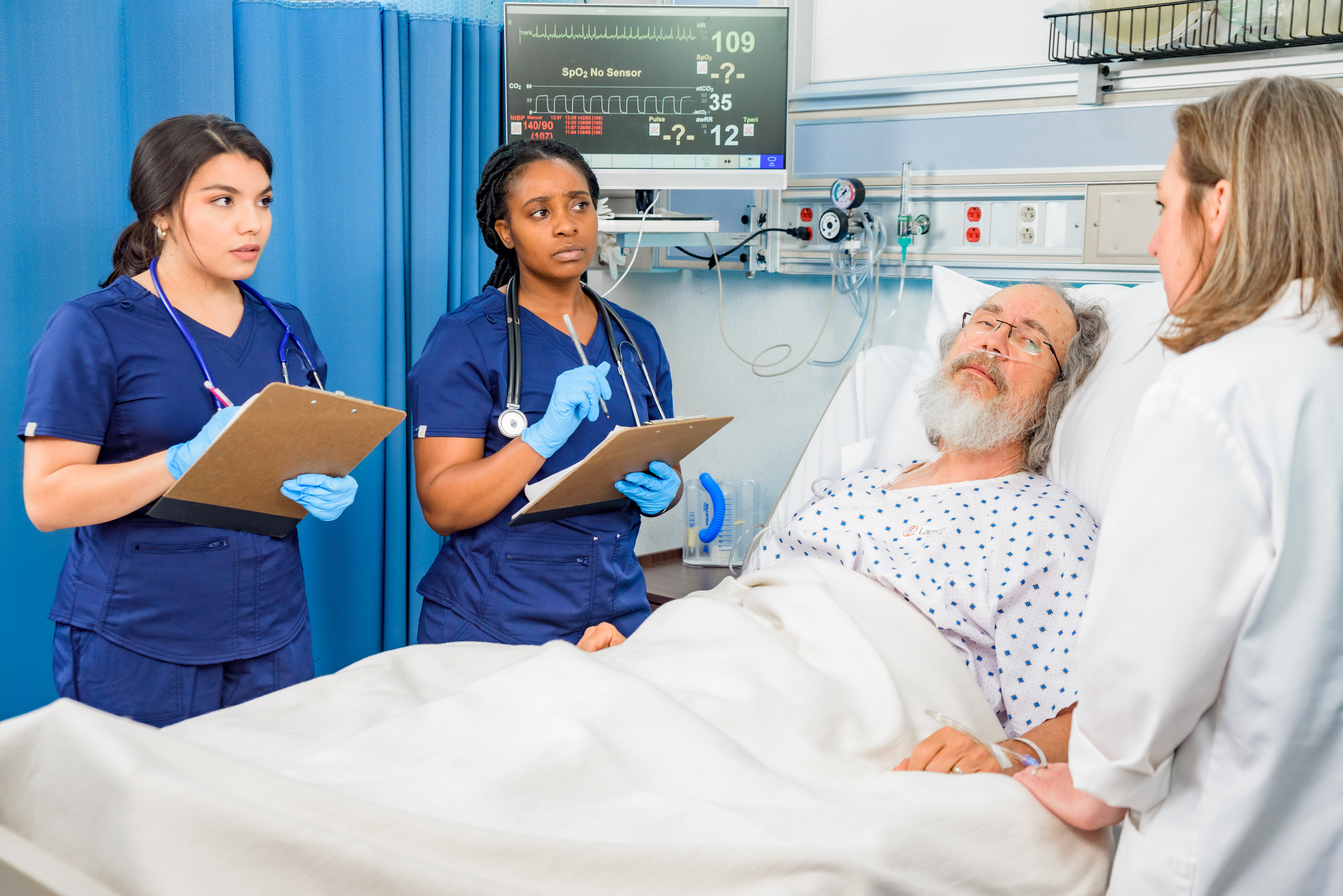 NLN SIRC Courses

The new, re-imagined NLN Simulation Innovation Resource Center is a series of online courses designed to provide nurse educators with professional development to curate the skills that enhance the learning experience.
Laerdal, in collaboration with the National League for Nursing, are partners for consulting, education, and support. NLN SIRC courses are designed to challenge educators to expand their skills and meet NCSBN Simulation Guidelines standards to conduct simulations.
Lippincott Docucare
Help students build clinical reasoning skills in a simulated EHR environment with Lippincott Docucare. This innovative digital solution integrates over 150 patient scenarios with web-based academic Electronic Health Record (EHR) simulation software, allowing students to learn how to use an EHR in a safe, true-to-life setting, while enabling instructors to measure their progress.
Lippincott Coursepoint+
Lippincott® CoursePoint+ helps tomorrow's nurses increase confidence and competence with a robust educational platform where every learning activity applies to the real world.
Using personalized learning tools for individual types of learning, Lippincott® CoursePoint+ challenges students to apply what they've learned to real-life scenarios, becoming practice-ready nurses, and developing essential clinical judgment skills


UMedic Cardiology Curriculum
The UMedic Multimedia Computer Curriculum is a patient-centered system that has been shown to enhance the learner's bedside examination skills while also teaching patient histories, laboratory data and treatment.
Bedside skills in UMedic are taught through video demonstrations of Harvey®, The Cardiopulmonary Patient Simulator, a full-size manikin that simulates the physical findings of essentially any cardiac disease.